Script For Thursday's Meeting
7:00 PM - Meeting at Ponders.
Repertory: America the Beautiful, Armed Forces Medley, Blue Skies, California Here I Come, Can You Feel the Love Tonight, Darkness on the Delta, Georgia on My Mind, God Bless America, Hello Mary Lou, I'm Sittin' on Top of the World, It's the Music that Brings Us Together, Let's Get Away from it All, Old Folks at Home, Star Spangled Banner, Welcome Song, When She Loved Me, When There's Love at Home, Yesterday, and You Tell Me Your Dream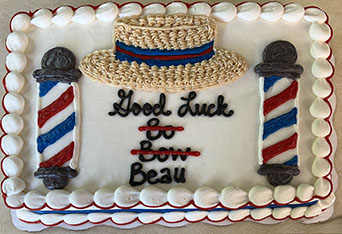 Dear Fellow Chorus Members: I just wanted to say thank you to you all for the send-off last Thursday, the cake, and the wonderful card signed by so many. Made my day! I have many, many fond memories of my time participating in The Choo Choo Chorus. Beau (Photos by David Murphree)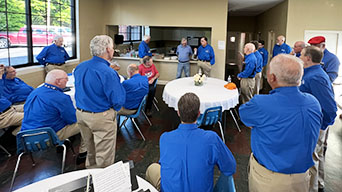 4 Bridges Art Festival Sing Out
Thirty guys, a modern day record turnout, sang at the 4 Bridges Art Festival. Part of the audience was seated at tables while others stopped before moving on to the First Horizon Pavilion to see the art. A good performance on a cool day. Photo by Aria Tompkins.