Script For Thursday's Meeting
7:00 PM - Meeting at Ponders.
Blue Skies arr. by Clay Hine
Darkness On The Delta
Fun in Just One Lifetime
Let the Rest of the World Go By
Minstrel Montage
My Wild Irish Rose
When She Loved Me
Repertory: America the Beautiful, Armed Forces Medley, Blue Skies, California Here I Come, Can You Feel the Love Tonight, Darkness on the Delta, Georgia on My Mind, God Bless America, Hello Mary Lou, I'm Sittin' on Top of the World, It's the Music that Brings Us Together, Let's Get Away from it All, Old Folks at Home, Star Spangled Banner, Welcome Song, When She Loved Me, When There's Love at Home, Yesterday, and You Tell Me Your Dream
We will "officially" kick off our show preparation THIS Thursday, May 4th. NOW is a great time to bring a friend with you!

The song list has been updated for this week. You will see a couple of "NEW" ones we will begin to work on for the show. I will be updating the show song list frequently.
For the Good of the Chapter
Paul Falkner received his membership card and Jimmy another Man of Note for inviting Paul. Photograph by David.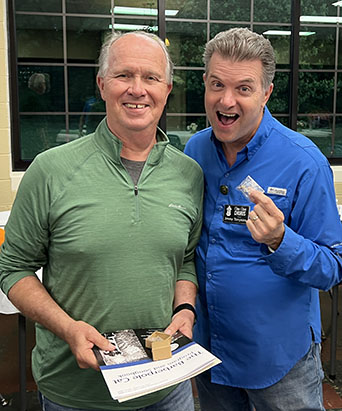 Last week The Chattanooguys got the Gandy. They were celebration his departure and were not there to pass it on.