Script For Thursday's Meeting
7:00 PM - Meeting at Ponders. Work on our general repertory to get ready for our performance at the Four Bridges Art Festival.
Repertory: America the Beautiful, Armed Forces Medley, Blue Skies, California Here I Come, Can You Feel the Love Tonight, Darkness on the Delta, Georgia on My Mind, God Bless America, Hello Mary Lou, I'm Sittin' on Top of the World, It's the Music that Brings Us Together, Let's Get Away from it All, Old Folks at Home, Star Spangled Banner, Welcome Song, When She Loved Me, When There's Love at Home, Yesterday, and You Tell Me Your Dream
What an enjoyable evening was had by all who attended our Awards Party at FUM. The food was outstanding, the entertainment quite enjoyable and the two recipients of this year's hardware were very deserving. Mr. Jones got the BOTY Award and Mary Strickland received the President's Award. All those in absentia were truly missed. See everyone Thursday. Until then, KTTWS. SteveG
For the Good of the Chapter
The Awards presented at the Banquet are shown below.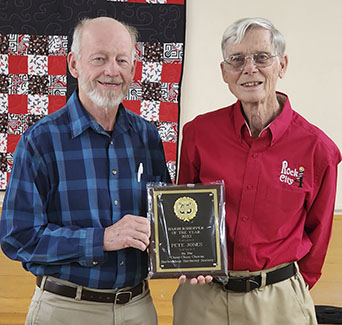 Fred agives BOTY Award to Pete Jones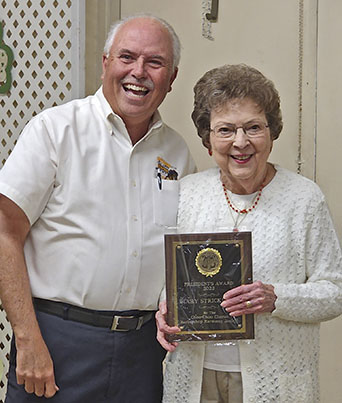 SteveG gives Prsident's Award to Mary Strickland