Script For Thursday's Meeting
7:00 PM - Meeting at Ponders.
Repertory: America the Beautiful, Armed Forces Medley, California Here I Come, Can You Feel the Love Tonight, Darkness on the Delta, Georgia on My mind, God Bless America, Hello Mary Lou, I'm Sittin' on Top of the World, It's the Music that Brings Us Together, Let's Get Away from it All, Old Folks at Home, Star Spangled Banner, Welcome Song, When She Loved Me, When There's Love at Home, Yesterday, and You Tell Me Your Dream
We had a very nice remembrance of Judy Jesse at our meeting Thursday. At Fred's request, the Chorus sang Let the Rest of the World Go By for him and his daughters. RC4 joined Fred for a special Tag and the quartet from Cleveland, Premiere (Noah, Andrew, Nathan, Wyatt), came down and sang in Judy's honor. One of their numbers was a special arrangement of Maggie Fred had done for his wife. Cake and hugs followed. Keep Fred and his family in your thoughts and prayers at this time.
We've got an influx of performances at Double Tree coming up, so keep those blue shirts handy and voices at the ready. Until next time, KTTWS. SteveG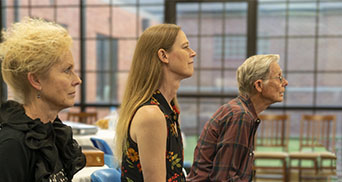 So far, we have had 7 guests attend and really enjoy our performances at Double Tree. These are new folks who will buy tickets and order quartets to their doorstep! May 1 and May 8 are our last chances until September to invite guests who have never heard us sing.
So, please take a chance and invite some people! The worst thing to happen is that they say no. Or you might get a yes!
Ideal possibilities are guys that sing in a church choir but have resisted invitations to Thursday night rehearsal. If you know someone like this, please try one more time! Thanks, RichW
For the Good of the Chapter
Channel 9 is using the Red Coated Valentines Quartet of Ron, Jimmy, Johnny and Pete to advertise the This and That show that comes on at 12:30 PM.
Our newest member, Seth Jackson, gave the Gandy he received from Wilbur to Ron Weaver.